Description
The HomePower 2 backup battery power station is the first emergency power supply designed specifically for the modern home. Turn it on, plug in, and you have power.
With an emergency power supply lasting up to 7 days, Geneverse is the reliable source of energy you can count on when disaster strikes by keeping vital home appliances and devices running without interruption.
• Supports 99% of Home Appliances with High-Power Output
4 AC outlets at 110V/60Hz, 2 USB-C outputs with PD 100W, 2 USB-A certified by Qualcomm Quick Charge 3.0, and 1 car outlet with 12V/10A.
With a capacity of   – 2060Wh , the HomePower 2 offers up to 7 days of emergency power to your crucial devices and home appliances on a single charge.
Ultra-fast recharge by the AC wall outlet in 1-2 hours, by solar in 3-4 hours, and by your car in 7-9 hours, with a built-in Maximum-Power Point Tracking (MPPT) charge controller.
With the portable ergonomic design and the intelligent display and control, it takes 30 seconds or less to set up and is ready to provide eco-friendly power in any emergency situation.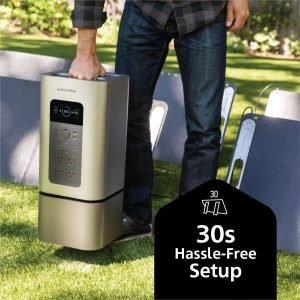 It also powers critical medical devices, power tools, and communication devices to stay connected during a power outage and time of recovery after disaster strikes.
Industry-leading safety and reliability designed with electric-vehicle-grade battery cells. Every unit undergoes 52 reliability and safety tests and is covered by a 5-year warranty.